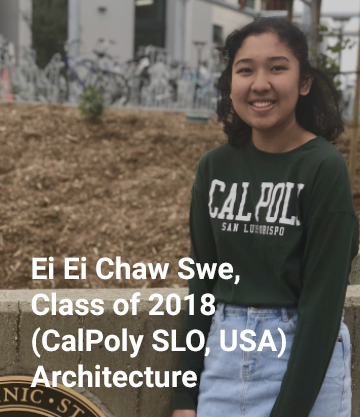 Hello to everyone in the American School of Bangkok! I am currently majoring at Architecture in California Polytechnic State University, San Luis Obispo. San Luis Obispo is a small city north of Los Angeles which has beautiful beaches, mountains with marvelous views, and great weather that doesn't get too cold or too hot.
Being in ASBGV taught me a lot of things which I continuously utilize throughout college. Although playing sports has now become recreational, the discipline I got through playing basketball and volleyball on the ASB's varsity team regulates my work ethics. Being a part of ASBGV's accepting and friendly environment has shaped my mindset accordingly, which is something I will live by. The diversity of culture within ASBGV's community opened my eyes and gave me a lot of experience in interacting with different types of people. In addition, my four years in ASBGV has given me great memories I will always treasure, and look back warmly on.
To those in high school right now. Although time might be passing slowly, these four years will go by in a snap. Before you know it, you might miss the quesadillas, and the chicken with khao niao from the school's canteen like I am right now. Treasure the moments you have with your friends right now, and make the most out of everything.
Last but not least, I miss my basketball babies (Shanique, Noinah, Bua, San, Keisharna, Julia) so much. Good luck throughout the season, and play hard. Your mother/grandmother is always here, all the way across the globe, cheering on you guys on.
This is Nay Chi Thein Lwin or Keirra reporting from San Francisco. My experience of attending ASBGV for 7 years has made my transition to a new country smoother. I want to thank everyone such as the teachers, RLC parents, and friends that has helped me in school. ASBGV was like a second home to me and it helped me to grow as an individual. One of the greatest experiences I had in ASBGV was living in the RLC (residence). It gave me a chance to learn how to live with other people from different cultures and countries. I am beyond grateful for the experiences I had in the RLC and hoped that everyone living there is doing well and having lots of fun like I did. To all the seniors this year, good luck with your applications and I am beyond excited for you guys to move to a university of your choice!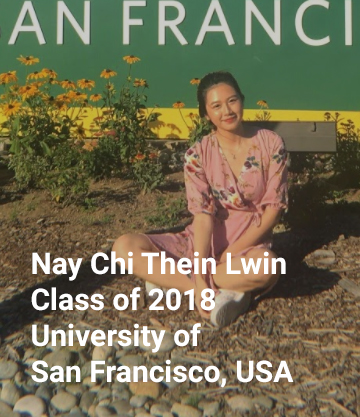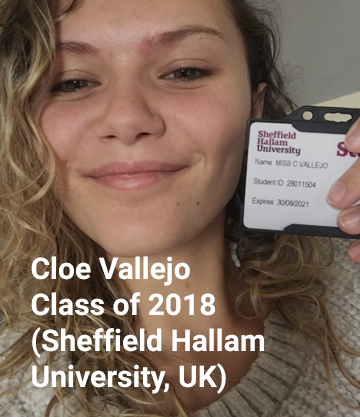 It is nice to be back at ASBGV in a way. If it wasn't for this school I wouldn't be where I am today, it helped me get inspired and back on track. Some things were hard and others were easy but all of it stays the experience it's been for me. I would like to thank everyone who supported me and took time to understand me and do things to help me get back up and go further in life. Mrs. Cindy, Mrs. Alissa, Mr. D, Mr. Jun and many other teachers for helping me, but specially Mrs. Meca for always being there when I needed even if it was off work hours, and helping me find the university that best fits me which I am now happily attending. Everything tears and laughs, achievements and failures, all paid off once I took a look back at my fellow teachers and friends on my graduation day and realized I wouldn't have changed it for anything. No matter the struggle you, fellow student of ASBGV may go through, don't worry, ask for help because the staff and teachers of ASBGV are the kindness of them all, and want nothing but see you walk down the aisle and take your diploma to move on to better things.
Loads of luck from us English lads,
Cheers !
Hello to everyone in The American School of Bangkok. My name is Manatpol Chongsirilak, or you may know me as Boat from Thailand. I am currently studying in Lucerne, Switzerland at Cesar Ritz Colleges. ASBGV was where everything started for me; with over 10 years in the school I have learnt a lot about the world, and myself. I learnt how to speak English in kindergarten, all the way to writing essays, and giving presentations in this school. With all the knowledge I have from my teachers, university life is going smoothly for me, and I am really thankful to my teachers. There will be new challenges that will come upon you, like French for me right now, but stay focused, and everything will be fine. I enjoyed my time at ASBGV, making new friends every year, and learning about the cultures of other countries from other students. Thanks to that I fit in pretty well with other international students in the university.
Mindfulness was a great skill I got from this school, and trust me it will help all of you through many things, like university exams. Now I am currently studying a double degree on Business and Hotel Management, and I can say that it was a great choice for me. I have learned that not doubting myself gave me this leap forward to study abroad, and get the education that felt right for me. So do not doubt yourself, and do what you like; it doesn't need to be special, just what you feel is right. I wish you all the best, and do not forget that what your teachers are teaching you is important, especially mindfulness. Thank you ASBGV for giving me the knowledge to attend university, and for me to share my university experience. Bonne chance!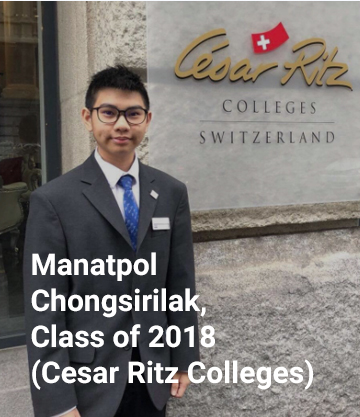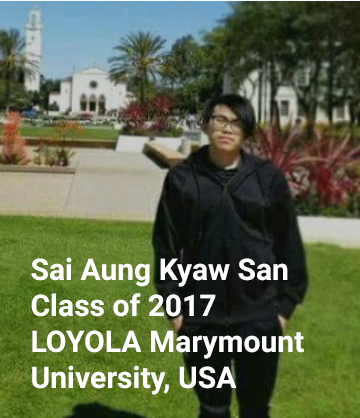 Hello, my name is Sai Aung Kyaw San, class of 2017. It is a delight for me to be in ASBGV's limelight. This school gave me the opportunity to reminisce about my home for 3 years. ASBGV gave me the true value of education that is so unique and incomparable to others. It has provided me with a unique form of education. I said that because it helped me acquire the basics. The basics that I'm using now in order to survive my university so far. These basics are like tools which makes life easier and also the lessons I've learned in and outside of the classroom are my key tools to face the challenges in my university life.
The dormitory provided me a home instead of a house. Everybody is like sisters and brothers to me. We laughed at the confusion and shared challenges. No one is left behind, it's like our "Ohana". I was never alone. I will always cherish my life at ASBGV, I would like to say a special thanks to Mrs. Meca, who helped me realize where I want to be, the neverending support she gave is huge. Without her advice, I wouldn't be where I am right now. One quick tip for Green Valley Students, be visible in her office Lastly, I can say BIG Thank you ASBGV, for the opportunities and made me realize what I am capable of. To the current seniors and sophomores, I know what you are feeling right now, I have been there. One important advice from me, you are ready and just go out there and show the world what ASBGV has created.
Hello from New Jersey,
I am glad to say that I made the right decision to study at ASB. First of all, when I attended ASB as a 10th Grade student for ESL class, I was quite worried whether I could adapt myself into the new environment since I came from a Thai school. Surprisingly it turned out to be another way. I was very happy and enjoyed my classes. In the class, my first teacher was Mr. Peter Roberts, who always helped and supported me when I had a hard time learning English. In addition, Oou, who was my first friend, also welcomed me so I did not feel lonely as a new student. There were many activities for me to participate at the school. One of my favorite activities was being a member of ASB's golf team. Every year I had a chance to compete for ASBGV, especially the Bangkok Cup tournament which was the tournament for International Schools in Thailand. I was very proud that I and my team mates could bring the Bangkok Cup Trophy to ASB. Another great opportunity ASBGV gave me was the chance to fulfill my dream of studying and playing golf for a university in the US in the NCAA Division I. I received an athletic scholarship for golf at Rutgers University, New Brunswick (the State University of New Jersey). I would like to express thanks to ASB's senior management (Mrs. Lakhana, Ms. Gift and Mr. Chris), Mrs. Alissa K. for Physics and AP Chemistry, Ms. Emma for British Literature, Mrs. Cindy for English IV, Mr. David L. for Pre-Calculus, Mr. D for PS Prep, Kru Nee for Thai. And most importantly I would like to give a big thanks to Mrs. Meca, who always helped and advised me to get through the process of receiving the athletic scholarship. Last but not least, in the past three years of my experiences at ASBGV, I always remember my journey from the first day to the last day as an ASBGV student. Lastly, "Big Thanks" to Kate, Four, Five, Nine, Oou, August, Phate, Ziew, Um and everyone in the school, especially Ms. Meca, my teachers, and my friends. I love ASBGV!